Since the 1980s, armored aluminum alloys have experienced two types of aluminum alloys, 5083-H131 and 7039-T64. 7039-T64 has better ballistic resistance to armor-piercing and fragmentation rounds than the lower strength 5083-H131. However, 7039-T64 has the problem of stress corrosion, so 2139-T87 armored aluminum alloy appeared. 2139-T87 has similar ballistic properties to 7039-T64 but has improved resistance to stress corrosion cracking.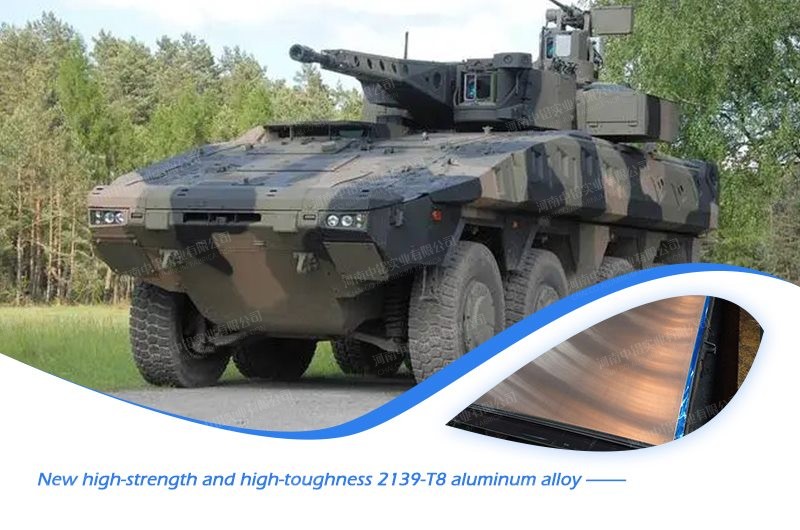 2139 t8 aluminum plate sheet
New high-strength and high-toughness 2139-T8 aluminum alloy
The composition of 2139-T8 aluminum alloy is: 0.1 Si, 0.15Fe, 4.5~5.5 Cu, 0.20~0.60 Mn, 0.020~-0.80 Mg, 0.15~0.6Ag.
Higher strength can be obtained by alloying with a small amount of magnesium (Mg) and silver (Ag), which is due to the uniform precipitation of 0 precipitates. The alloy does not rely on extensive cold working to achieve maximum strengthening, so thick plate working strength does not decrease.
2139-T8 aluminum alloy has the precipitation strengthening characteristics of 7000 series aluminum alloy, and also has the performance characteristics of 2000 series aluminum alloy. Due to its high strength and high fracture toughness, 2139-T8 performs well in high-explosive impact and ballistic tests. Alloy 2139 has been selected as a potential light armor material.
ou want to know our products, prices and this month's preferential quotation information, welcome to call our service number or leave a message! We will reply as soon as possible.