5086 H32 aluminum plate belongs to the commonly used alloy aluminum plate series. The main element is magnesium. It is mainly characterized by low density, high tensile strength, high elongation and good fatigue strength, but it can not be strengthened by heat treatment. 5086 H32 aluminum plate has high strength and corrosion resistance, and is also widely used in conventional industry.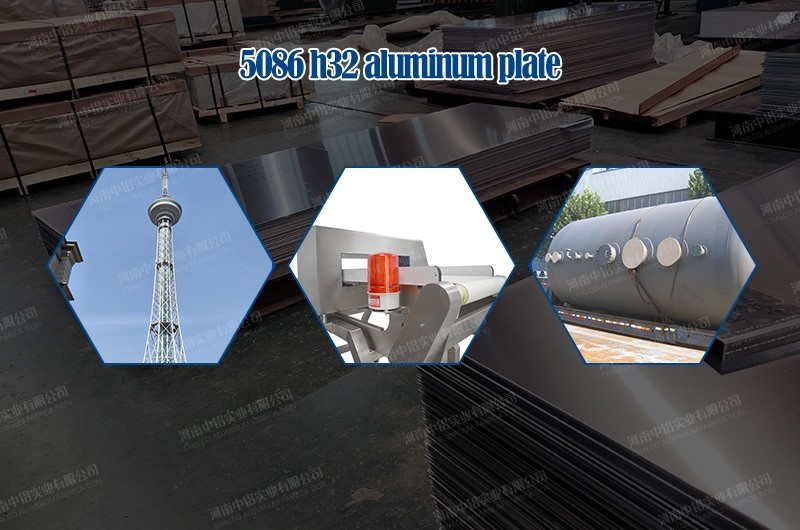 5086 h32 aluminum plate
5086 H32 aluminum plate typical application: it is used in occasions requiring high corrosion resistance, good weldability and medium strength, such as weldable parts of ship, automobile and aircraft plates; Pressure vessels, refrigeration devices, TV towers, detection equipment, transportation equipment, missile parts, armor, etc. that need strict fire prevention.
Alloy

status

thickness(mm)

width(mm)

length(mm)

Typical products

5086 aluminum plate

O,H12,H14,H16,H18,H19,

H22,H24,H26,H28,H32,H34,

H36,H38,H111,H112,H114,H 116,H321

0.15-600

20-2600

500-16000

Refrigeration device, TV Tower, installation and exploration equipment,

transportation equipment, power distribution cabinet, tank car, etc
Alloy EN AW-5086 [Al Mg4]

EN AW-Al Mg4
Specific application of 5086 aluminum plate
Deck is an important component of the hull. It is a plane structure above the inner bottom plate in the ship structure. It is used to cover the space in the ship and divide it horizontally into layers. Most of the decks are made of 5086 aluminum plate.
5086 aluminum plate has high requirements for product performance. It is better to select a large aluminum plate manufacturer. It is important to consider whether the manufacturer has sufficient production strength. Only when the production scale, technical strength and talent reserve meet the industry standards, this aluminum plate manufacturer belongs to the manufacturer with production strength, and the 5086 H321 aluminum plate produced by the manufacturer can be used safely for customers.
For customers, choosing to buy the manufacturer of 5086 H321 aluminum plate directly affects the price of aluminum plate. Users should comprehensively consider and compare with each other to select manufacturers with high quality and low price. The 5086 aluminum plate produced by signi aluminum has a flat version, no burr on the cutting edge, good quality, direct sales from the manufacturer and affordable price. More marine aluminum plate products include 5083 aluminum plate, 5052 aluminum plate, 5754 aluminum plate, etc. email: service@signialuminium.com.
ou want to know our products, prices and this month's preferential quotation information, welcome to call our service number or leave a message! We will reply as soon as possible.