5A06 aluminum plate is Al-Mg series rust-proof aluminum, 5A06 aluminum plate has high strength and corrosion stability, good plasticity in annealed and extruded state, and the air tightness and plasticity of weld seam by argon arc welding are acceptable. The strength of the welded joints of gas welding and spot welding is 90 to 95% of the strength of the matrix, and the machinability is good.
5a06 h112 aluminum alloy plate use
The 5A06 h112 aluminum alloy plate has a beautiful appearance after anodization, and the surface of the aluminum plate has no oil spots, no waves, no scratches, no roll marks, neat trimming, and no burrs; excellent corrosion resistance makes 5A06 alloy widely used in ships, and car, subway, light rail, etc.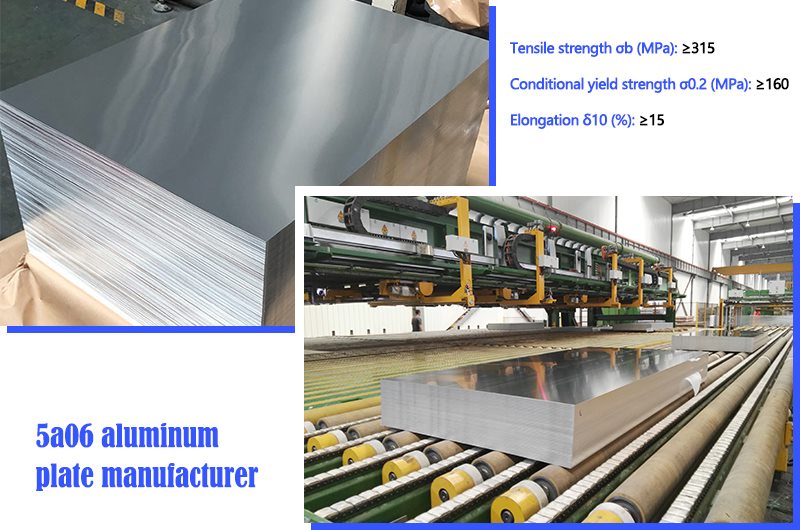 5A06 h112 aluminum plate tensile strength
Tensile strength σb (MPa): ≥315
Conditional yield strength σ0.2 (MPa): ≥160
Elongation δ10 (%): ≥15
Note: Longitudinal mechanical properties of bar at room temperature
Sample size: bar diameter (square bar, hexagonal bar inscribed circle diameter) ≤ 150
5a06 aluminum plate manufacturer
Chalco Aluminum is a direct-selling manufacturer integrating R&D, production and sales, with advanced technical equipment and mature technology. With a professional technical team, sales team and after-sales team, professional customer service managers will take you to visit manufacturers and product explanations, with low quotations, and also bring users to the factory for on-site inspections.
ou want to know our products, prices and this month's preferential quotation information, welcome to call our service number or leave a message! We will reply as soon as possible.