Although the strength of 6061 aluminum alloy can not be compared with that of 2XXX or 7xxx series, its magnesium and silicon alloy have many characteristics, such as excellent processing performance, excellent welding characteristics and electroplating, good corrosion resistance, high toughness and no deformation after processing, compact and defect free material, easy polishing, easy coloring film and excellent oxidation effect.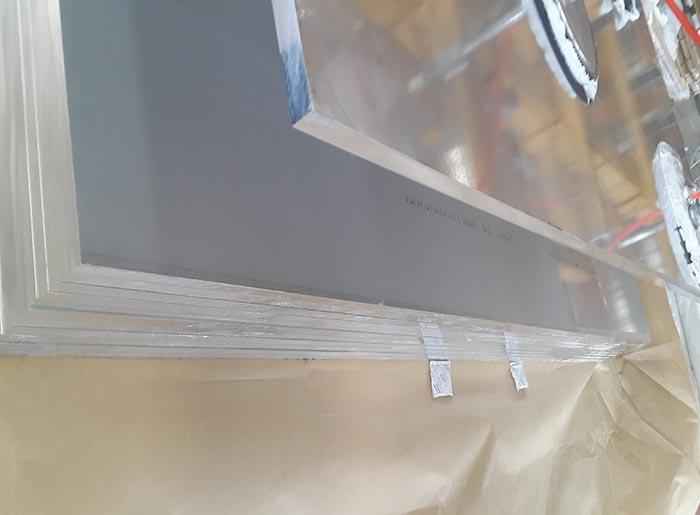 6061 T6 good packing
In our common heat treatment strengthened aluminum alloy, the state code behind is generally the letter T plus one or more Arabic numerals to indicate the subdivision state of T, and the Arabic numerals 0-10 after t to indicate the subdivision state (called TX state). The number after t indicates the heat treatment procedure for the product.
6061 is the brand, the same brand, the same chemical composition. T5, T6 ~ is the state, the different state, the different mechanical properties, the specific index depends on the specific product standards. Now T5 (false T6) is commonly used in China to replace T6, the tensile strength and yield strength are the same as T6, the difference is that the hardness is not as high as T6, the hardness of T6 is hb95, mainly due to the heat treatment cooling speed is not fast enough. Both of them are 6061, and T5 and T6 are aluminum alloys.
T5 is generally air-cooled when quenching in profile plant, while T6 is generally water-cooled when quenching in profile plant. The elastic modulus of the two is the same.
In general, T5 state is used. If the deflection of the rod passes and the tensile strength is slightly worse, T6 state can be used.
The strength of T6 is better than T5, but the price of T6 is generally higher than T5.
T5 is air cooling, T6 is water cooling. T6 has high mechanical properties. Not too thick material, air cooling T5 can achieve the effect of water cooling T6
6061 aluminum plate is widely used in aerospace fixing device, electrical fixing device and communication field. It is also widely used in automatic mechanical parts, precision machining, mold manufacturing, electronics and precision instruments, SMT, PC board solder carrier and so on. At present, most of our customers buy auto parts.
6061 aluminum suppliers
Chalco service: can be customized on request type: duralumin alloy discount: direct supply from warehouse. Advantages: timely delivery, cost saving. 6061-T6 2000 * 5000 large size plate, package logistics distribution, 6061-T6 supply, can be cut according to customer requirements, the surface is smooth, cutting surface without burr. The machining deformation is small, the oxidation effect is good, the mechanical properties meet the aviation AMS standard, the company has automatic cutting equipment.
ou want to know our products, prices and this month's preferential quotation information, welcome to call our service number or leave a message! We will reply as soon as possible.