5086 aluminum plate belongs to 5-series antirust aluminum, and its common states are o, h111, h112, h116, H321, etc. 5086 h111 aluminum plate is widely used in occasions requiring high corrosion resistance, good weldability and medium strength, such as ships, automobile weldments, pressure vessels, refrigeration devices, etc., especially in marine aluminum plate and other marine markets.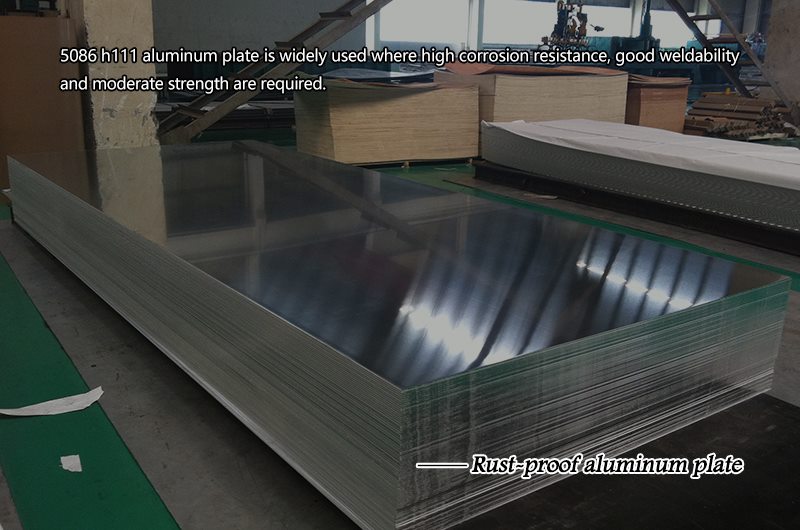 5086 h111 aluminum plate picture
5086 h111 aluminum plate has high corrosion resistance, good weldability and medium strength. Compared with other aluminum plate products, the corrosion resistance of 5086 h111 aluminum plate is an important reason for its wide application. Therefore, 5086 aluminum plate is also called "antirust aluminum plate"
5086 h111 aluminum plate manufacturer introduces the material selection requirements of marine aluminum plate
The proportion is small, which can reduce the ship weight, save energy consumption and increase the load capacity;
Corrosion resistance is good. The ship structure is in a harsh marine environment. Corrosion resistance is one of the main symbols of marine alloys.
Excellent welding performance, marine aluminum plate is required to have good welding crack resistance, and the tendency of cracks formed during welding is small.
It has good cold and hot forming performance. It needs to undergo various treatments of cold and hot processing in ship manufacturing. It is easy to process and form, does not produce crack defects, and does not affect the strength and corrosion resistance.
The material selection of marine aluminum plate is relatively strict. At present, aluminum plate products such as 5083, 5086, 5454, 5754 and 6061 are mostly used. Chalco aluminum can be customized according to user needs, with a large width of 2600mm and stable performance.
5086 h111 aluminum plate price
The price of 5086 h111 aluminum plate for shipbuilding consists of two parts. The average price of 5086 aluminum ingot + processing fee on the day of delivery. Since the price of aluminum ingot fluctuates every day, the quotation will fluctuate. To understand the detailed price, we also need to provide the thickness, width, length (mm) and total demand (ton) of the required products for easy accounting. If you have any questions, please contact email: info@chalcoaluminum.com
ou want to know our products, prices and this month's preferential quotation information, welcome to call our service number or leave a message! We will reply as soon as possible.