1.Melting and Holding Furnaces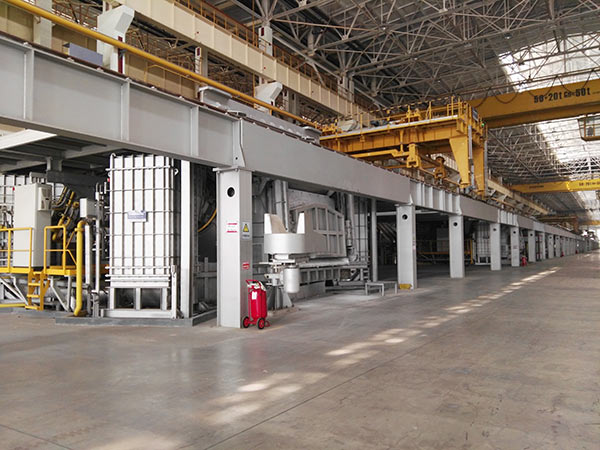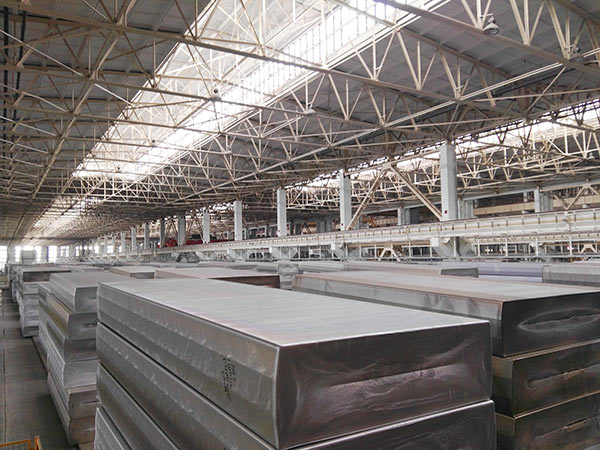 The melting furnace is a hydraulic tilting gas heating furnace designed by Otto Juncker and manufactured by Suzhou Xinchangguang. All casting machines adopt the latest generation of semi-continuous low-liquid vertical shaft casting technology from WAGSTAFF. It is equipped with ABB's electromagnetic stirring, online hydrogen measurement and online slag measurement system. The on-line treatment of aluminum melt adopts the French NOVELIS on-line degassing system, deep bed filtration system, Japanese Mitsui Metal's plate filter and tubular filter, the degassing efficiency reaches 0.12ml/100g-AL, and the filtration efficiency reaches 98% or more (impurities below 10μm ).
It can produce 1, 2, 3, 5, 6, 7, 8 series and other alloy ingots. The product specifications cover all mainstream domestic specifications. The minimum product is 520mm×1000mm×9150mm, and the largest product is 640mm×2410mm×9150mm. The maximum ingot weight can be Up to 37.5 tons.
2.Hot Rolling Mesta 1+4 Stands Tandem Mill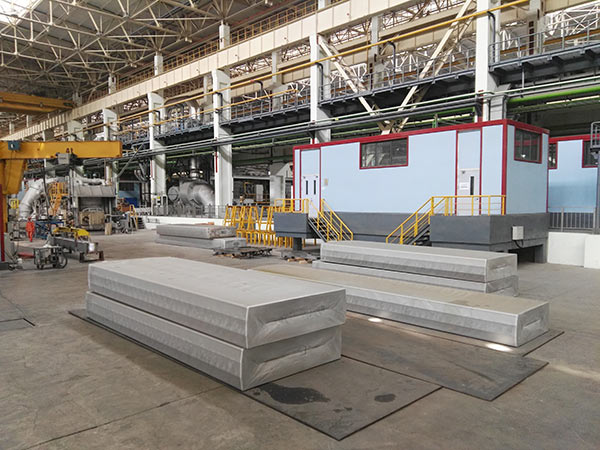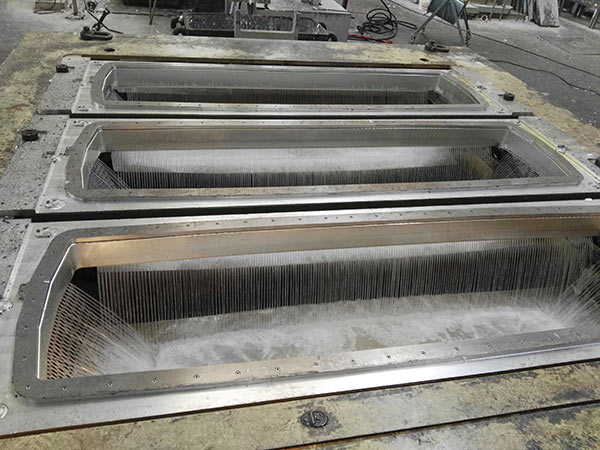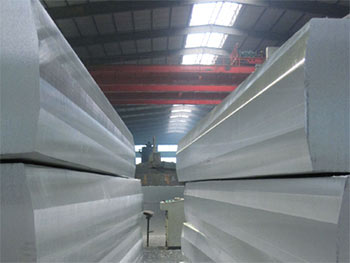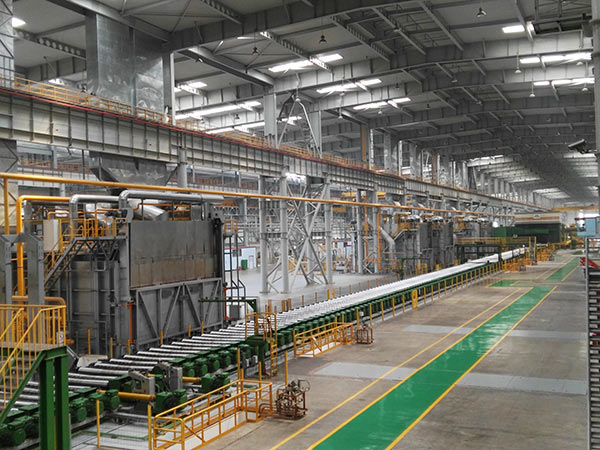 The French Sermas double-head sawing machine can simultaneously cut the head and tail at the maximum speed of 10 blocks per hour. The milling machine is the most advanced model with high precision and high rigidity design from Japan Shingang. The milling machine and the sawing machine are arranged in series. After the slab is sawed, the head and tail are directly conveyed to the #1 milling machine through the roller table for upper and side milling, and then the ingot turning device is automatically turned over and the #2 milling machine completes the other side milling. Greatly improve the efficiency of sawing and milling.
Hot rolling project adopts 2560mm " 1+4" hot tandem rolling mill , annual output of hot-rolled strip for can stock can reach 600000t/a or more, maximum strip width is 2400mm, and minimum strip thickness is 1.8mm. With advanced electrical facility from Siemens and profile gauge from IMS, Germany, we have realized the closed-loop control between thickness and profile.
3.Cold Rolling Davy Machine
The cold rolling project adopts German SMS 2500mm single stand CVC cold rolling mill and 2500mm double stand CVC cold rolling mill, strip width maximum 2400mm, minimum 900mm, coil size: coil outer diameter maximum 2750mm, minimum 1200mm. The maximum rolling force is 20000kN, the maximum rolling speed: 1800m/min. And matching German Danieli 2300mm edge trimming machine and slitting machine, German Engle Straightening machine, German Herkules grinder, South Korea Pohang Iron & Steel packaging line and German Vollert high-bay warehouse.

4.Aging/annealing furnace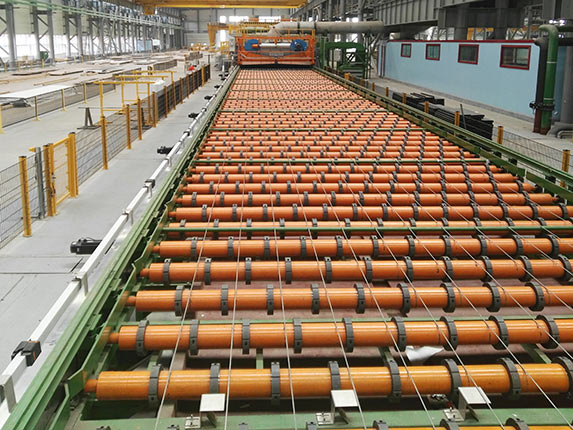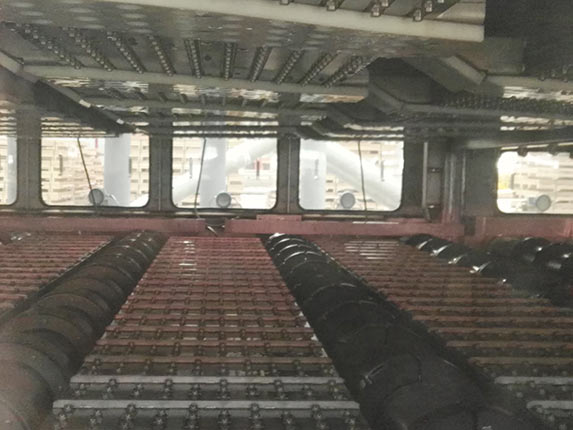 Solution treatment plays a vital role in the production of hard alloy plates. Nowadays, all enterprises that produce aerospace-grade aluminum alloy thick plates should have thick plate roller-hearth solution treatment furnaces. This kind of heat treatment furnace is composed of a charging roller table, a solution treatment furnace, a quenching and drying system, and a discharge roller table. Two sheets can pass through at the same time when processing narrow plates.
Aging/annealing furnace and T77 aging furnace for hard alloy plates, there are 7 aging/annealing furnaces, including 4 sets of 14m and 3 sets of 26m. Main technical parameters: furnace temperature setting deviation ±1℃, furnace gas temperature deviation ± 2℃, plate temperature uniformity ±1.5℃.
The 39m T77 aging furnace can perform three-stage aging on 7055 alloy, providing the aerospace industry with T7751 aluminum thick plates with the best overall performance. Its main technical parameters: furnace temperature setting deviation ±1℃, furnace gas temperature deviation ±2℃ , The temperature uniformity of the plate is ±1.5℃, and the single plate is ±1℃. The size of the processed plate: thickness 4mm~250mm, width 1000mm~4300mm, length 2000mm~39000mm, and the maximum weight of the single board is 25t.
5.Tension leveling and Straightening Machine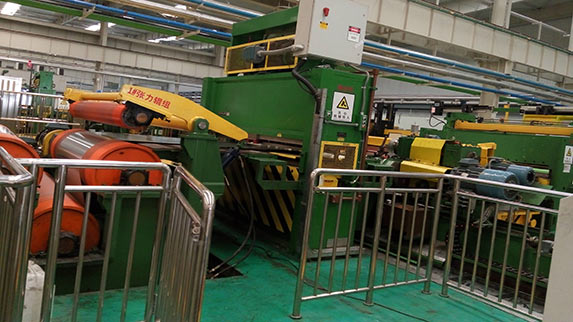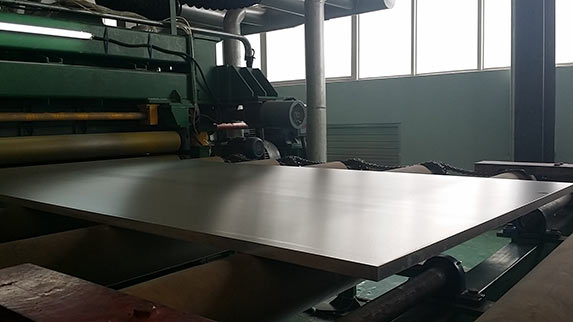 Cold Rolled Coil are processed in the Finishing Department for further process as per customers' requirement such as :
- Tension Leveling for improving the flatness of the material prior to cut to lenght Line for final sheet products.
- Side Trimming for foil stock, slit coil and circle blanks.
- Embossing for embossed coils or sheets and roll forming for roofing products.
All 4 stretch-bending straightening units have been introduced to straighten most of the alloy strips of 1xxx series, 3xxx series, 5xxx series and 8xxx series with a maximum coil quality of 30t with a width of 950mm~2150mm. One of the production lines can straighten strip The thickness is 0.2mm~3.0mm, and the other three are 0.1mm~1.0mm. The maximum straightening speed of the production line is 300m/min.
6.Stretching Machine

Aluminum plates stretching machines, one set 100MN, the other one 40MN, could produce T351 T451 T651 stretched aluminum alloy plate sheet.
7.Polishing and Film Covered Procedure
The finished aluminium plates only have Mill Finish Surface,therefore,the polished surface need be produced as customer's requiremend.These plates will be put on transmission shaft firstly,then,they will be sent to the polished machine to get polished. And the filim coverage machine joined with polished machine together in the end side.So as the film coverage will be done in the same time after plate polishing.
The plate polishing and film coating production line is introduced from Demis Company, Switzerland, and it is polished in a single piece, and the surface roughness Ra=0.8μm~0.2μm, and it is coated immediately after polishing. Available polishing plate size: thickness 3~250mm, width 1000mm~2600mm, length 2000mm~12000mm.
8.Cut to Length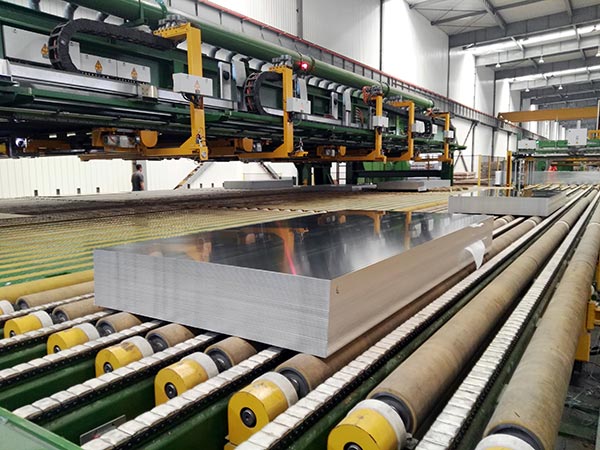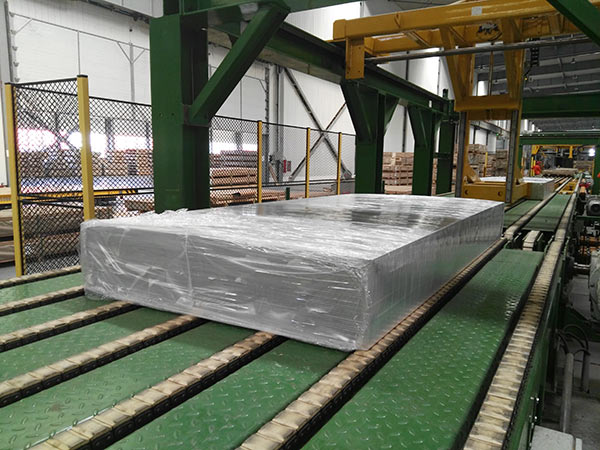 There are 2 thin plate cross-cutting machine production lines, basic technical parameters: cutting strip thickness 0.2mm~4.0mm, strip width 910mm~2650mm, sheet length 800mm~12250mm, cutting alloy 1xxx~8xxx, tensile strength Rm80N/mm2~ 550N/mm2, yield strength Rpo..2 30N/mm2~450N/mm2, the bottom surface is lined with paper, the top surface is coated, the maximum speed of the unit is 120m/min.
9.Aluminium Tread Diamond Plate Embossing Process
One bar, two bar, three bar and 5 bar aluminum tread plates are available alloys in 1***, 3***, 5*** and 6****.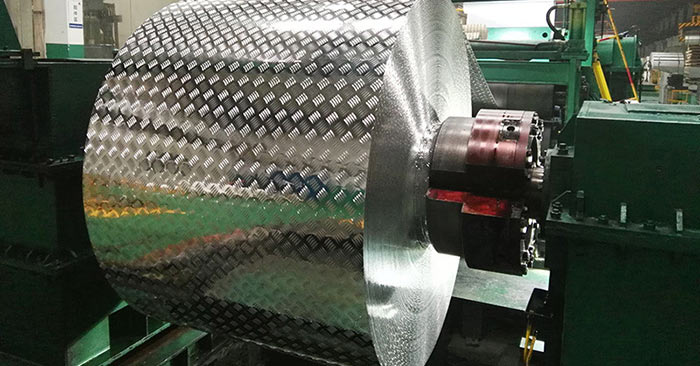 10.Surface mirror polishing process
The preparation process of mirror aluminum for anodizing has been upgraded from mechanical polishing to milking. The products are concentrated in non-anodizing 1100, 1060, 1070 ordinary mirror aluminum plates. Chalco has already produced 1070 and 1080 high-end mirrors based on hot milk.