3105 has good rust resistance and good electrical conductivity. 3105 aluminum plate sheet has high plasticity in the annealed state, good plasticity in semi-cold hardening, low plasticity in cold hardening, good corrosion resistance, good weldability, and machinability Poor performance.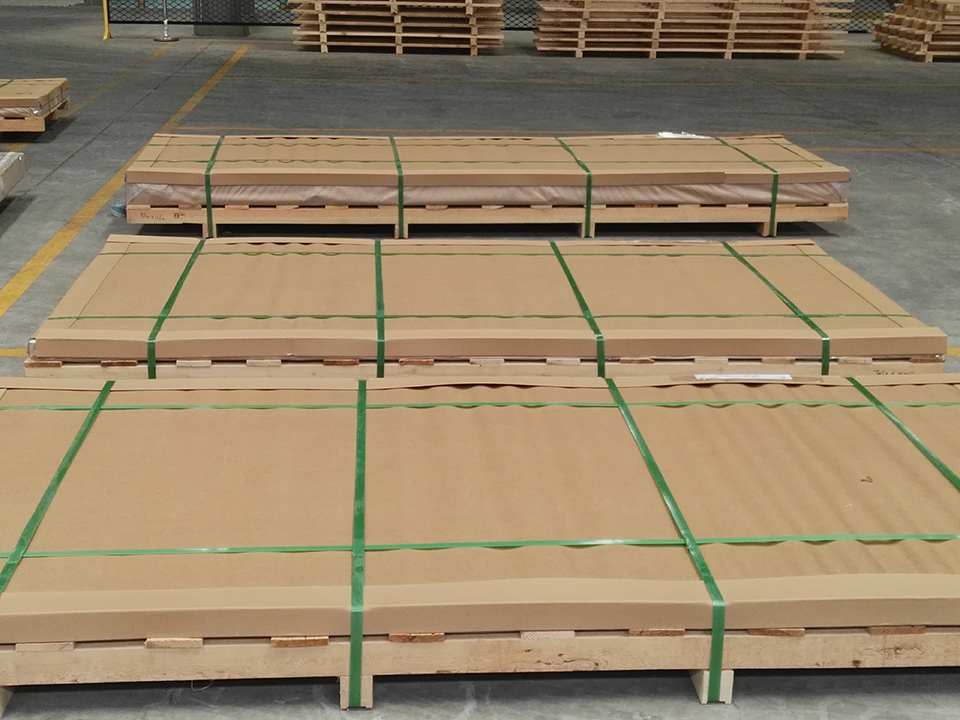 3105 aluminum plate packaging drawing
3105 aluminum sheet manufacturer introduction
Chalco Aluminum is a large modern aluminum processing enterprise integrating scientific research, processing and manufacturing. The company can produce 1-8 series aluminum sheet, strip and foil products with complete specifications to meet your diverse processing needs.
Chalco supplies 3105 hot rolled aluminum sheet, 3105 super wide aluminum sheet, 3105 pattern aluminum sheet and so on.
3105 aluminum plate sheet has excellent performance:
1.3105 aluminum plate sheet has good electrical conductivity. Since 0.3% of copper is added to it, the electrical conductivity can reach 41%.
2.3105 aluminum plate sheet has good anti-rust performance and is a widely used anti-rust aluminum.
3.3105 alloy aluminum plate has good processing performance, novel product shape and long service life.
4.Chalco Aluminum strictly controls the processing quality, texture, grain structure, composition, etc. of the product, and the product performance reaches the advanced level.
Technical Parameter
Alloy

3105 aluminum plate sheet

Temper

F,O,H12,H14,H16

H18,H19,H22,H24

H26,H28,H111,H112

Thickness(mm)

0.1-500

Width(mm)

20-2650

Length(mm)

500-16000

Application

Liquor bottle caps, beverage bottle caps, cosmetic caps, coating rolls, etc.
Market application
Room partitions, baffles, movable house panels, color-coated aluminum substrates, blinds, lamp holder materials, gutters and downpipes, thin plate forming processing parts, bottle caps, bottle stoppers, etc.
ou want to know our products, prices and this month's preferential quotation information, welcome to call our service number or leave a message! We will reply as soon as possible.
Related products
Get In Touch,Let's talk
Hello! If you are interested in our products and leave your demand, we will give you an accounting quotation in time.
Or you can send your request to our email address: info@chalcoaluminum.com
Send Your Request
0086-371- 55689814 55686476
126#4 Building A,No.89 Science Avenue,National HI-Tech Industry Development Zone,Zhengzhou,Henan
Social touch