5454 aluminum plate sheet is one of Chalco aluminum's superior products. The 5454 aluminum sheet produced by Chalco is skilled in craftsmanship and can adapt to harsh corrosive environments. It is a typical anti-rust aluminum with high strength, which is about 20% higher than 5052 aluminum sheet. . The quality of the products far exceeds the national standards, and the original manufacturer's warranty is provided. 5454 aluminum plates are widely used in automobiles, aluminum tank car cylinders and other fields, and have a good reputation.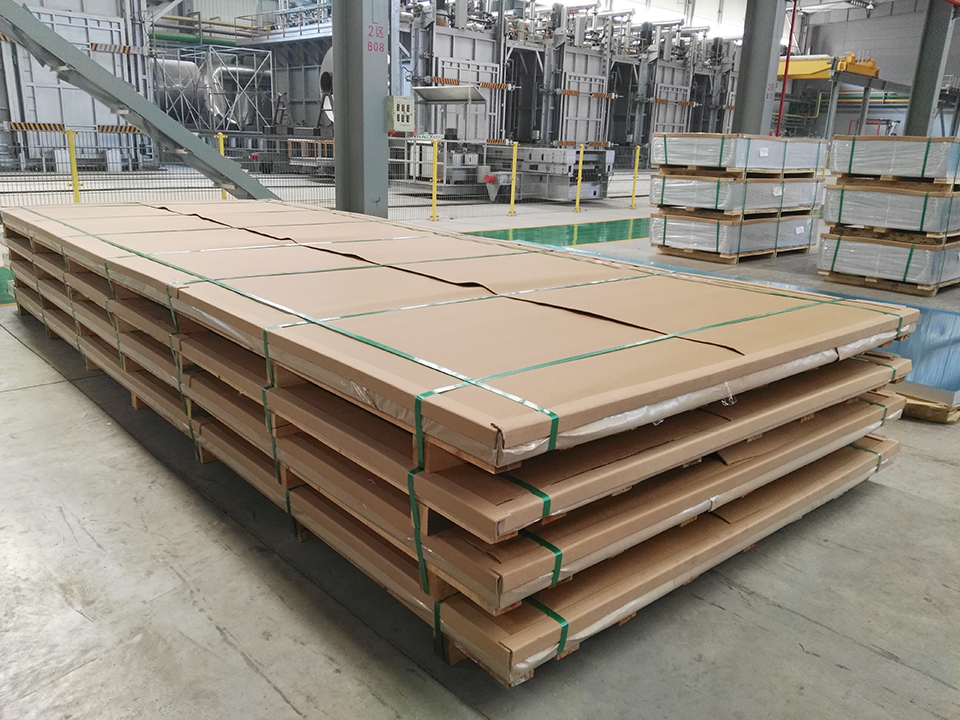 Chalco factory quality assurance, after-sales worry free
Advantages of Chalco's 5454 aluminum plate sheet
1. The six-high cold rolling mill produces 5454 ultra-wide aluminum plates with a flat pattern and neat trimming.
2. High strength, high corrosion resistance, good plasticity, and good molding processability.
3.The "1+1" production line put into production by Chalco Aluminum provides a strong foundation for the large-scale production of 5454 aluminum plates and further ensures the good performance of 5454 aluminum plates.
5454 aluminum plate sheet manufacturer introduction
   Chalco Aluminum 5454 aluminum sheet manufacturer, supplies 5454 alloy aluminum sheet, 5454 medium thickness aluminum sheet, 5454 pattern aluminum sheet, 5454 tanker aluminum sheet and other products, with high quality, low price and good reputation.
   Chalco Aluminum is a large aluminum plate, aluminum strip, and aluminum foil manufacturer that supplies 1-8 series alloy products, customized by the manufacturer, complete specifications, delivery time 2-25 days, global sales.
How much is the price of 5454 aluminum plate sheet
  Because different aluminum plate manufacturers produce different products in workmanship, technology, craftsmanship, and raw materials, the prices of aluminum plates are naturally different.
   As a large aluminum plate manufacturer, Chalco Aluminum only provides users with more reliable, economical, and cost-effective 5454 aluminum plates to make users more satisfied.
Technical Parameter
Alloy

5454 aluminum plate sheet

Temper

F,O,H12,H14,

H16,H18,H19,

H22,H24,H26,

H28,H32,H34,

H36,H38,H111,

H112,H114,H116,H321

Thickness(mm)

0.3-600

Width(mm)

20-2650

Length(mm)

500-16000

Usage

Fuel tanks, tanker barrels, pipelines for marine facilities, automobile wheels, etc.
Market application
Mainly used for welding structures, pressure vessels, pipelines for marine facilities and automobile wheels.
ou want to know our products, prices and this month's preferential quotation information, welcome to call our service number or leave a message! We will reply as soon as possible.
Related products
Get In Touch,Let's talk
Hello! If you are interested in our products and leave your demand, we will give you an accounting quotation in time.
Or you can send your request to our email address: info@chalcoaluminum.com
Send Your Request
0086-371- 55689814 55686476
126#4 Building A,No.89 Science Avenue,National HI-Tech Industry Development Zone,Zhengzhou,Henan
Social touch